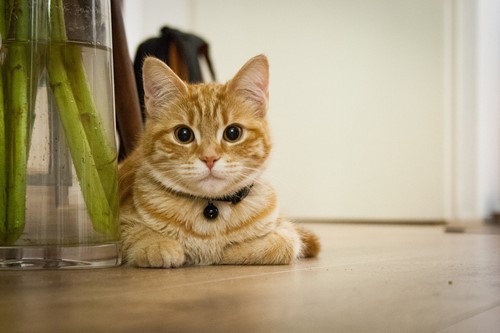 Image by Niek Verlaan from Pixabay

From getting a bad case of the zoomies to being less than dainty with their water dish, pets definitely put flooring through its paces. Unfortunately, many flooring materials simply cannot meet the demands of pet-friendly households. You need a durable material known to withstand whatever your pets can throw at it like these five great options.
Luxury Vinyl
Vinyl has long served as the best type of flooring for pets since it is scratch-resistant, waterproof and easy to clean. Beyond that, this material feels great underfoot and mutes the sound of your pets' nails clicking across the floor.
You don't have to get plain colors or boring prints either. You can now find luxury vinyl that boasts the look of hardwood and natural stone but without the cost.
Natural Stone
Natural stone is a fantastic pet-friendly flooring material since it resists stains and scratches, especially if you get unpolished varieties. As an added benefit, the natural texture flooring helps pets stay steady on their feet, which is helpful if your pets are getting up there in age.
If pets spill water or have an accident on the stone, it won't seep into the material. Instead, you can just wipe it right up with ease. To avoid having to clean up quite as often, go with a multi-colored stone that keeps the errant fur and debris out of sight and out of mind.
Laminate
Laminate has only improved through the decades since its release. It now boasts a truly waterproof design that keeps liquids from seeping into the cracks and warping the flooring. In addition, it is scratch-resistant and doesn't wear down nearly as quickly as hardwood floors.
Even with heavy use, you'll find the laminate looking just as good as it did when installed years down the line. This material is also a lot more affordable than hardwood, while looking just like the real thing.
Cork
If you want something a little more natural than laminate, then cork is a good choice. Although it's only water-resistant, not waterproof, it still works well in homes with pets that are past the initial house-training age.
You will also like it if your pets frequently go out and get muddy since it resists mold and mildew growth. As long as you can quickly mop up their mess, you can trust that your floors will stay in great shape.
Bamboo
Bamboo costs a bit more than cork but is also more durable since it is such a hard material. This material is also more stylish than cork and comes in unique patterns and plank sizes.
You can feel good about it, too, since it's one of the most eco-friendly flooring options on the market today. Like cork, this material is only water-resistant, so go with a different option if your pets are not house-trained.
When you upgrade your home's old carpet or other flooring with any of these options, your stress levels will likely decrease by far as you watch your pets frolic throughout the house. You can then focus on enjoying your new home to the fullest while spending quality time with your pets.